Our Australian Made, Portable Spill Containment Bunds are manufactured using Heavy Duty 900gsm PVC or XR5 1020gsm PVC Elvaloy. These industrial grade materials offer excellent resistance to tearing, punctures and hydrocarbons, are fully UV Radiation treated and made to the highest quality assurance guidelines for industrial use.
Our Bunds  are 100% effective in containing spills of varied liquids, we have inventory of stock standard sizes as well as fabrication of custom made sizes to suit your individual needs. Bunds are easy to use, simply fold down one wall and drive in for quick loading/unloading of goods. Bunds are strong enough to withstand tanker trucks, forklifts & military vehicles with the added option of ground-sheets or geo-matting where extra protection is required.
Our Portable Spill Containment Bunds are used extensively throughout Australia, PNG and the Middle East/Gulf regions.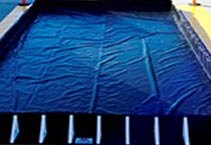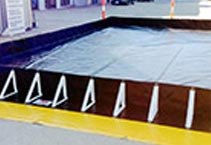 The advantages of using a Marson Portable Spill Containment Bund:
Available in 300mm & 500mm high side walls
Allows for quick and easy installation by minimal workers
Choice of quality Industrial Textiles

900GSM Scrim Reinforced PVC (Polymar 8556 Panama Weave with Lacquer finish)
XR5 1020 GSM Scrim Reinforced PVC/Elvaloy (Fuel/Chemical Resistance)

Stock sizes & Made to order sizes available
Superior strength triangulated braced side walls
Puncture, tear & UV resistant construction
Quality Australian Made since 1968
Australia Wide delivery (Road Express) or Worldwide delivery via Air-Freight
Used worldwide by major Chemical, Fuel, Aviation & Industrial companies
Optional Geo Textile ground mats & drain valves available