Collapsible/Portable spill containment liners for IBC's, Pallets, Drums, Tanker-Trucks & Machinery containing Chemicals, Oils, Fuels, Toxic and contaminated liquids.
Marson's range of quality custom fabricated portable spill bunds are made using robust, long lasting industrial textiles, high strength fibreglass battens and reinforced stainless steel eyelets.
Spill bunds are made to your exact size requirements, sizes of 1.4mx 1.4m for single pallet, IBC or chemical drum usage through to 25m x 25m for heavy industry and military use.
Simply fold one wall down, drive over for unloading of potential hazardous materials then fold back wall for a quick and easy leak containment area.
We offer a choice of 900GSM R/PVC for moderate chemical resistance or XR5 RPVC/Elvaloy for high chemical resistance.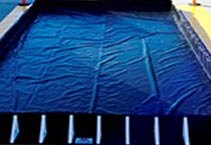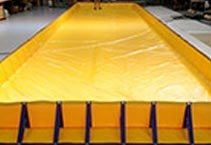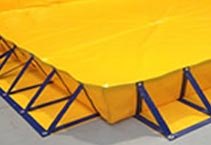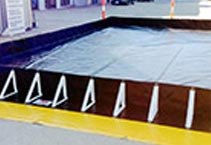 The advantages of using a Marson Spill Bund:
Custom made to any size
Allows for quick and easy installation by minimal workers
Choice of quality Industrial Textiles

900GSM Reinforced PVC
XR5 1017GSM Reinforced PVC/Elvaloy (high chemical resistance)

UV stabilised
Strong triangulated fibreglass battens for extra stability and strength
Puncture resistant
Quality Australian Made!
Delivery Nationwide/Worldwide
Optional Reinforced external Under-liners for rough terrain
Optional Reinforced Internal Inner-liners for heavy load points