Foam Sided Spill Bunds & Mats
Our range of Foam Sided Spill Bunds & Mats provide hassle-free containment for a wide range of fluids, fuels and liquids.
Foam sided Spill Containment Bunds/Spill Mats are a cost-effective solution for clients wanting to prevent liquid contaminants from polluting our drains and waterways, ensuring you operate within our environmental laws and regulations.
The 100mm high foam edge allows drive over access for: Trucks, Cars, Tractors, Forklifts and Military tanks. We provide a range of stock standard sizes or can custom manufacture to your required size.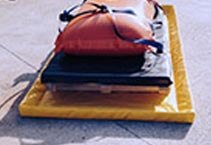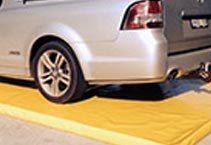 Foam Sided Bunding Specifications:
100mm High Drive-Over Side Walls
High-Density Shape Retaining Memory Foam
High Frequency/Heat Welded Construction
Fully Encapsulated Foam Walls
Uv Stabilised & Puncture Resistant
Optional Internal & External Wear Liners Available
Applications For Our Foam Sided Spill Bunds:
Chemical & Fuel Storage Drums & IBC's
Corrosive, Toxic & Hazardous Vessel Bunding
Military, Mining & Fuel Sites
Wash-Down Bays
Decontamination Zones
Car & Truck Wash Bays
Foam Sided Spill Containment Material Options:
900GSM PVC  (Polymar 8556 Panama)
1020GSM XR5  Fuel, Chemical & Avgas Resistant
Fully UV Radiation treated
Fire Retardant to AS2755.2
High Puncture Resistance
High Resistance to Soiling
Rot Resistant
Temperature Resistant -30 to +70 deg Celsius