Flat Top Semi's, Road-Trains, Recycling Trucks, Skip Bin Trucks, Asbestos Covers – We Have You Covered.
Strong, Dependable And Long Lasting – At The Best Competitive Price, is how we describe our range of Freight Tarps & Covers. Our factory will custom design your cover and ship it to any location within Australia or Overseas. Freight Tarps are subject to extreme conditions so, don't risk it with an low quality imported product. Invest in a quality made Marson Tarp or Cover. We have been in business for 50 years, so we know our stuff!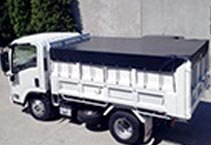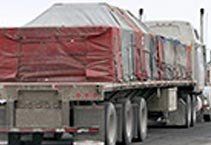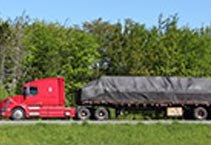 RIP-STOP CANVAS
Rip-Stop Canvas is the strongest option when choosing a Canvas Tarp. We only use quality Canvas from reputable supplier mills and recommend Bullduck TT, CS12 (Australian Made) or Razorback Ripstop Canvas (International Mill) as these give excellent resistance to tears and abrasions. Canvas is the ideal option for long haul semi-trailer Cap tarps.
Options for Canvas Freight Tarps are:
Single or double row of strong shorteners and tie ropes
Double stainless steel eyelets
Heavy duty double stitched Canvas
Reinforcing and wear strip points (option)
10MM truck rope and stainless steel D rings
Made to your exact size and requirements and are very strong and long-lasting.
RIP-STOP PVC – TITAN 680GSM INDUSTRIAL GRADE
TITAN 680GSM Ripstop PVC has the Highest Tensile and Tear Strength on the market.
Unlike other Ripstop PVC materials, TITAN 680 Ripstop features a high quality UV stabilised PVC coating / double lacquer both sides applied to a 1300 x 1300 Denier scrim – making it ideal for all types of transport Tarps & Covers. The added feature of being Fire Retardant(AS2755.2/B1) gives you added compliance when transporting flammable or toxic substances. Able to withstand large temperature fluctuations of between -30° and +70° C, Titan 680 is the most reliable PVC Tarp fabric available.
All our PVC Tarps are made to suit your exact requirements and are 100% Waterproof.
Options for PVC Freight Tarps are:
Single or double row of strong shorteners and tie ropes
Double stainless steel eyelets
Welded reinforcing and wear strip points
10mm heavy duty tie ropes and stainless steel D rings
Custom designed and Australian made.