Air permeable materials are used in Covers that are not required to be waterproof. Generally lighter in weight than water-proof covers, air permeable mesh type covers find their uses in items such as:
Sandpit Covers
Tennis Fence Screening
Waste Bin Tarps
Hydra Tarps
Mesh Privacy Walls & Screens
Shade Houses
Agricultural Covers
Livestock Shelter Covers
Wind Deflection Screening
Tarpaulins for Recyclables
Ultra Violet Radiation Protection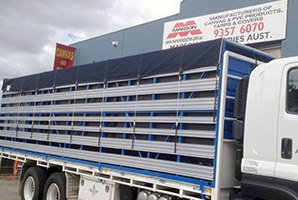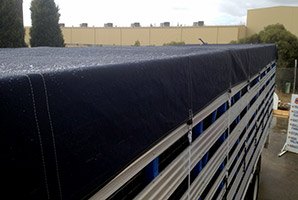 Our expertise in Industrial grade Air-Permeable Mesh allows us to offer you a product that will surpass your expectations and provide longevity and reliability for many years. Having been in operation for 50 years, Marson Industries Australia P/L supplies many Air-Permeable Mesh covers throughout Australia, Papua New Guinea and the Middle East. All these locations have very high levels of Ultra Violet (UV) radiation and so, using a material that has high levels of UV stabilisation is paramount.
Our custom made Mesh and Shadecloth Covers can feature different types of reinforcements and finishing types depending on your installation:
Double Sewn Webbing Edges
Stainless Steel Cable Edge
Aluminium Rope Track
Stainless Steel Eyelets
Weighted Chain Edge
PTFE (Teflon) or Bonded Polyester Sewn edges
And we only use Quality made Mesh and Shadecloth materials such as:
Titan Truck Mesh 330GSM
Commercial 95 & Hortshade
Vistaweave & Outlook PVC Mesh
Fire Retardant PVC Mesh
Maxi Screen Mesh
Truck Mesh
Hiraoka Super Mesh