Dont Risk It With A Low Quality Poly Tarp – Choose COVERSHIELD 9000 INDUSTRIAL GRADE POLY TARPS.
The online market and Hardware stores are full of so called Heavy Duty Tarps so with all these options whats the best most economical tarp to buy?
Marson Industries Australia has been in business for 50 years so we know Tarps, so we have made the choice easy – Covershield 9000.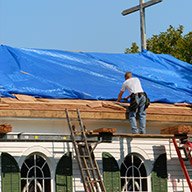 Covershield 9000 is a 330GSM Industrial Grade Heavy Duty Poly-Tarp available in a wide range of sizes ranging from 2.5 x 3m up to 12mx 21m and many sizes in between. All Tarps are fully reinforced with a heat welded edge reinforcing, brass eyelets every 1m apart reinforced with a triple layer/double sewn patch. As the eyelets are strong spur-toothed brass they offer exceptional strength when the tarp is put under stress. Covershield 9000 Tarps are used for a wide range of applications such as:
Farming Tarps
Agricultural Covers
Roofing Tarps
Makesafe Tarps
Emergency & Disaster Tarpaulins
SES Tarpaulins
Machinery Covers
Hay Stack Covers
Silage Tarpaulins
Truck Tarps
So don't risk it with a cheaply made Tarp, Choose Covershield 9000 Tarps and Covers.